Circular Maker Accelerator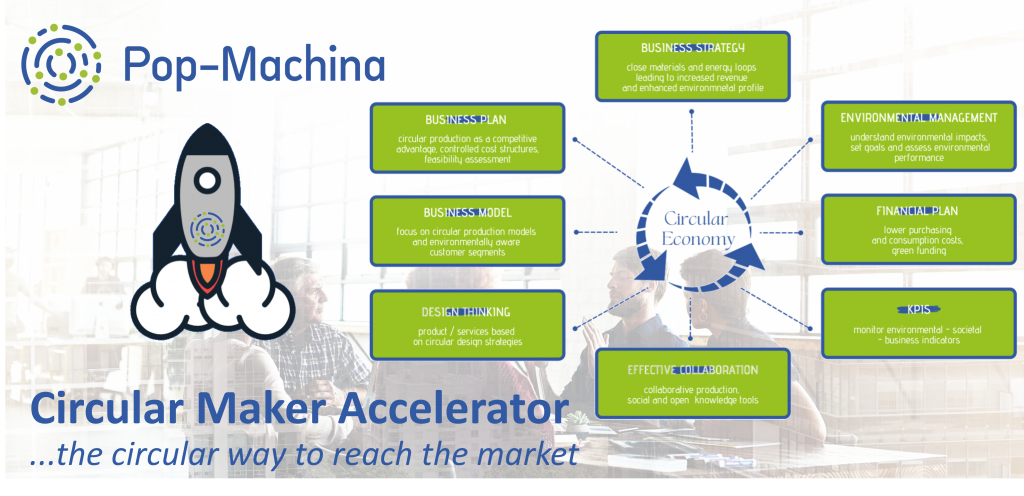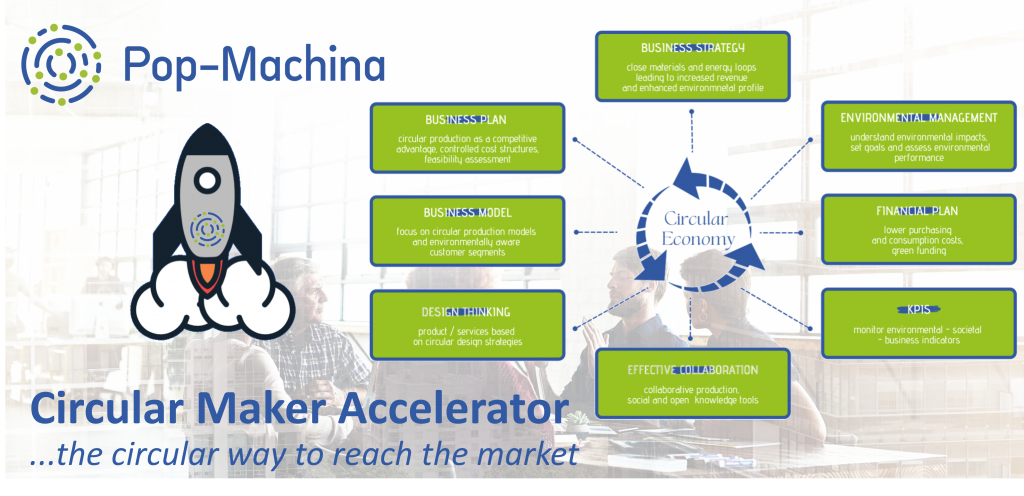 The Pop-Machina Circular Maker Accelerator Programme aims to offer makers the knowledge and skills required to scale-up their idea/project into viable business models following circular principles, which can remain sustainable and competitive in current and future markets.
---
Maker communities certainly possess the potential to spur circularity in all facets of development in the European Union. Yet, this potential will only be realised once challenges related to scaling up of production, business models, and the tension between the sharing and entrepreneurial approaches are overcome.
Equipping makers with the means to overcome challenges related to scalability, business models and tension between sharing and entrepreneurship is key to helping them find a route-to-market and raising the business potential of their circular ideas. As such, the Pop-Machina consortium has designed an integrated portfolio of innovation and business support services that will assist promising makers to obtain skills and find both markets and financing for their ideas. This portfolio is broadly categorised as the Pop-Machina Accelerator Programme and entails an induction training phase followed by mentoring and business planning and modelling phases, which will be offered only to choose applicants who passed a formal screening procedure.
The first stage of the Pop-Machina Circular Maker Accelerator is an Induction Training consisting of 10 courses, with a goal of teaching business basics and skills from how to set up your strategy to how you can access investment.
The courses cover:
Setting a base of business knowledge (Business strategy, Business model, Business & Financial plan)
Design process, philosophy, and circular design (Design Thinking)
Identifying a product's desirability and feasibility following circular principles (Assumption Mapping & Experiment Design)
Setting the right metrics and criteria for success (KPI Management)
How to cooperate well with others towards common goals (Effective Collaboration)
Being aware of your business' environmental impact (Environmental Management)
Support on accessing funding and financing (Access to Funding Opportunities)
Courses are accessible in the Available Courses section as usual. Besides, keep checking them as more material on the Mentoring and Business Planning and Modelling will come later on as the Accelerator progresses…